Secure offsite document storage
We collect, track, store and deliver
Our secure storage solutions represent real value when combined with our commitment to service.
Secure and efficient off-site storage solutions for your physical files and document boxes. Matched with our advanced yet user-friendly software, you can access your complete inventory online to easily catalogue, retrieve, digitise and destroy your documents on demand.
We offer secure document storage across Australia, including Melbourne, Sydney, Canberra, Perth, Darwin, Hobart, Adelaide and Brisbane. 
Discover how we tailor solutions for your industry
Keep your sensitive data and important documents safe.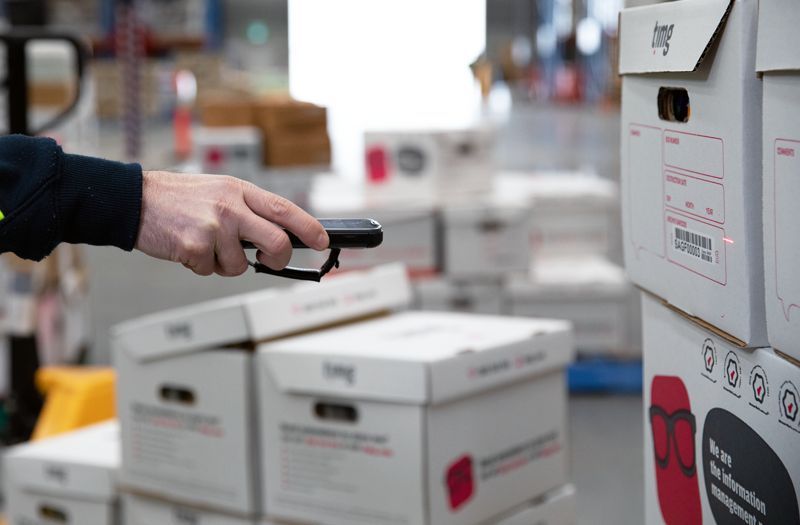 Offsite document storage anywhere in Australia
Store your documents securely at one of our offsite facilities
Manage and access your documents 24/7 with our complimentary software
Reduce the hassles – we collect, track, store and deliver
Save time and money for your staff with our document management system
Once stored offsite – we guarantee easy and prompt access

"My team and I are proud of the service level we provide to our clients. Our job is to ensure all Security protocols are followed based on our Certified Compliances and by doing so, we provide our clients with a confidence and trust in our services. No contractors are engaged by TIMG. Only permanent employees from the TIMG team will attend your site, transport your media and securely store all your sensitive items at our state-of-the-art secure storage facilities."
Mark Lawrence
TIMG Branch Manager – New South Wales
Active File Storage
Active file (loose file/open file) storage is the perfect solution if you need a complete audit trail of individual files. It is ideal for Hospitals and Law Firms that require high frequency and fast turnaround file retrievals.
Files are barcoded, tracked and stored individually – not by box
Files are stored individually within our secure facilities
No need to purchase archive cartons – we provide transport tubs
Cheaper handling fees for retrieval, compared to retrieving files from boxes
Use our online file culling tool to barcode and lodge new files into storage

"TIMG leads the way in Active file management. Our systems and processes have been designed to replicate a records room and to maximise value for our clients. I have found that by adopting our clients needs and coupling it with our software system, we can capture, track and return items with full visibility at any time. Minimising the points of potential error has enabled TIMG staff to store and deliver records to our clients in an expedient manner when our clients require them urgently, any time – day or night."
Sean Kays
TIMG Regional Manager – QLD and WA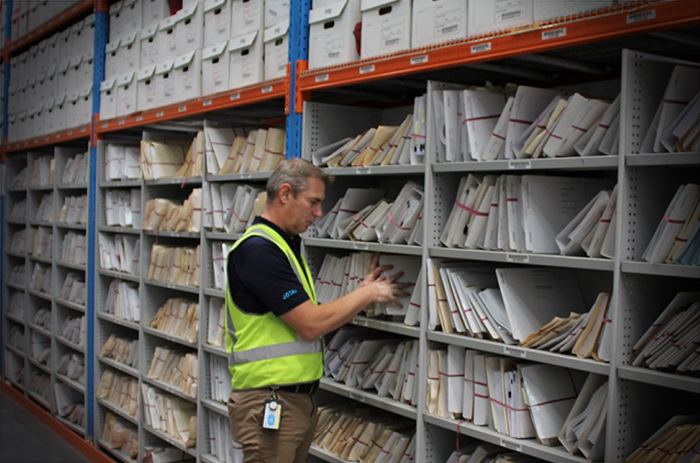 The solution step by step
Need help managing your documents?
Talk to one of our friendly local experts
on 1800 464 360
With locations all over Australia including Canberra, Perth, Sydney,
Melbourne and Brisbane.
Complete your information puzzle…
Questions & Answers
Some commonly asked questions about off-site document storage.
Firstly our people, they are "our people" not contractors. Our delivery teams are fully trained in security and customer service. Secondly, information management is what we do. Your records are safe with TIMG and your records are handled by professionals. We are not a courier company, so records do not travel with general freight and they are secure throughout the transportation chain. Thirdly, our systems and bespoke software, gives us the ability to deliver robust performance every time and help streamline your archiving activities. Lastly, we are constantly improving and making sure we offer the most up-to-date solutions for any of your records management requirements.
Possibly, yes – however, it is important to note that with the new privacy legislation in place, organisations that do use self-storage facilities, may not be fulfilling their legal obligations. We are happy to look at all options and come up with the best value proposition for our customers.
Not at all. Our software is able to handle any existing barcode. We simply import the data and scan away under the existing barcode. This makes any transition seamless, efficient and fast.
We use unmarked vehicles for security reasons. Each vehicle is satellite tracked, managed and owned by TIMG to ensure service schedules are adhered to, reducing risk and breakdowns. We are not a courier company, so records do not travel with general freight; they are secure through the transportation chain.