Jason Carr
General Manager
As General Manager of TIMG, it's exciting to lead a team of Information Management professionals whose sole focus is to deliver world class customer service and solutions tailored to meet the needs of our clients. There's no secret that our people are the heartbeat of this business and the reason why we continue to grow from strength to strength.
Away from the office, and as a father of 5, life is rarely dull. Whilst it is nothing short of chaotic at times, family is everything to me and I wouldn't have it any other way. I have a huge passion for motorsport and don't mind a good dad joke – although my audience mostly does not share my enthusiasm.
Phil Watts
Commercial Finance Manager
As TIMG's Commercial Finance Manager, I do more than just wrangle numbers. With more than 20 years experience shaping organisations to be the best in their field, I've worked across a wide range of industries from funds management and insurance, to automotive and logistics. This passion to work with the best, aligns well with my role at TIMG – a company committed to innovative solutions in the information management sector. I have a strong passion for all things summer, and still play with cars, although I must admit – time spent with my family and the pet German Shepherd, is the best.
Conroy Filies
Regional Manager – NSW, ACT and TAS
Sport has been a massive part of my life and has taught me much about being a team player but also about the real value and importance of family as a part of your success equation. "People don't care how much you know until they know how much you care." This is my business philosophy and whether it is working with employees or with clients, I enjoy investing in efforts to help people resolve issues. I give every client my personal attention. I walk in their shoes, so right from the get-go, I understand what they need, and they know what to expect.
Sean Kays
Regional Manager QLD & National Healthcare Solutions Manager
Growing up in Botswana, I've enjoyed some truly awesome experiences in my life. Some of the most rewarding, being during my 14 year tenure as a Volunteer Firefighter. These days, my young family takes up most of my spare time but we still enjoy the bush and Queensland's beaches. In 2007, I took on the challenge of establishing Queensland's first warehouse and data vault facility. Our success today, is the result of the hard work of our operations team, who provide uninterrupted services to our clients. As we continue to grow, our focus is to deliver our ever-evolving range of digital services to our clients.
Mike Reynolds
Regional Manager VIC and SA
I have a keen love for our natural environment and cherish the opportunity to promote sustainability and responsible business practices within TIMG. After having spent 12 years as a Conservation Officer in South Africa I now enjoy exploring natural Australia. Since starting at TIMG in 2007, I have helped significantly expand the Victorian business to include a full suite of information management services from document and data storage and management; to digitisation and workflow business solutions. Our focus is on quality engagement and service and keeping it as the best in the industry.
Tineke Mann
eBusiness Manager
I love anything creative, embracing happiness and living in the moment. I believe we are given one shot at life and we should make it count! I live by the quote "Live everyday as if it is the best day of your life". TIMG's eBusiness division is primed to help companies prepare their systems and processes for the future. We work closely with small to large businesses to develop customised solutions that will deliver both short and long-term benefits. We understand the importance of helping clients transition to new technology in line with their vision, goals, and timeframes.
Maurice Hewson
Group Sales Manager & SA/NT State Manager
Listening to music and playing in bands are two secret passions. I also maintain my fitness and love supporting my local football team. With more than 15 years' experience in the records management industry, I understand that customer focus is central to developing meaningful business relationships. As a team, we seek to engage with our clients and routinely support them through events, sponsorships, and industry conferences. By learning about our clients' operations and vision, we gain a deeper understanding of how to tailor the solutions that work best.
Brett McKenzie
NT Branch Manager
Darwin has so much to offer and that is what I love about the place! The Information Management space holds many exciting opportunities and is continually evolving. Understanding our clients needs is a top priority for me as they are forced to continually explore more efficient and cost effective ways to manage their information. TIMG is an incredible business to work within and my role affords me the opportunity to help establish real partnerships with our clients as we assist them to articulate their needs. Darwin might not be a large city but it certainly has a huge heart!
Beth Fernando
People & Culture Manager
I love seeing the people around me smile. Whether that be through supporting their career development, personal growth or playing with them on the netball court! My passion for working in People & Culture comes from my innate interest in helping others and having fun with them along the way. I've worked across several industries in HR and Change Management including, Professional Services, FMCG, e-Waste and Logistics. I believe you get the most out of people by showing a genuine interest in them and helping them play to their strengths – a philosophy I feel is well and truly shared here, at TIMG!
Parand Mohsenpour
Business Strategy and Marketing Manager
I love reading, soccer, music and philosophy. Some think I'm a perfectionist – I call it exceeding expectations. The inevitability of change in the Information Management space is my main motivator right now and working at TIMG, has allowed me to develop and implement dynamic and innovative Marketing strategies for our business. On any given day, I can find myself dealing with new product verticals, new applications or systems integration challenges. My role has me working with almost all departments across the group – a great way to stay in tune with our business.
Ajnesh Ram (AJ)
TIMG Digitisation Business Manager
Keeping it simple is how I look at all aspects of life. No matter how complex or difficult the situation there always is a simple solution. My journey into records and data management started in 2000. Over the years I have seen the digitisation industry change from being a secondary service to being the heart and soul of information management. Our customers are the core of our business and teamwork a major component for every successful project. Understanding our customer expectations and vision enables us to deliver solutions that not only meet their requirements today but into in the future.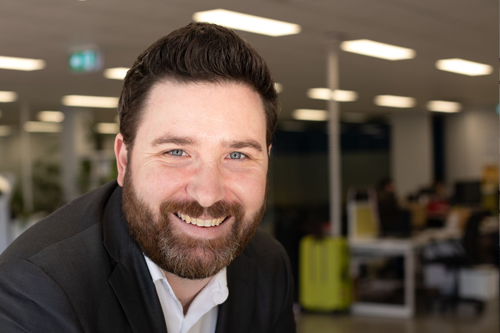 Nathan Roberts
National eDiscovery Manager
When I am not spending time with my twin daughters, I enjoy watching sport and playing video games – both retro and modern in equal amounts. After 9 years working in document management, and then 7 years in litigation support and eDiscovery, I joined TIMG in 2017, where I manage our eDiscovery team, working closely with not only our clients, but also our internal teams, to utilise technology for our eDiscovery, Digitisation and Document Management projects. With more and more data being generated each day, information management becomes increasingly important, and TIMG is well positioned to assist our clients with managing their data, regardless of whether it is in physical or digital form.
Carlo Di Toro
National Manager Bureau Services
I've always believed that we need to develop mutually beneficial relationships with our clients across our business. It's only through trusted and reliable service that we can build ongoing business relationships. With my new role as National Bureau Manager, I'll oversee all aspects of the strategic direction for the bureaus nationally. I think the most exciting part of the new role will be my engagement with our fantastic staff and clients. Affecting change will require everyone's input and only together, will we bring new ideas to life.
Ivan Dennis
WA State Manager
Originally hailing from the West Coast of the South Island in NZ, I've been lucky to have been part of the Freightways Team for many years. Starting out as a student sorting mail at DxMail part-time and then various senior roles across NZ Couriers and Post Haste, I've settled in the beautiful city of Perth, for a second time! Success is a pretty easy formula in my book. Making people your primary focus, keeping communication open and then planning and implementing sound processes, you can achieve anything, and our team here in WA has some huge achievements under its belt. Outside of work, I'm a social animal who enjoys a good laugh. I'm considering taking up a new sport, musical instrument, or stand-up comedy; who knows? But what I do know is West is Best!
Glen Baars
National Online Backup Manager
I currently work with the team to support existing clients, ensure IT infrastructure availability, implement new service offerings, improve business workflow and grow server implementation to support business growth. TIMG have achieved so much in the past 5 years, becoming the largest Veeam service provider in Australia and New Zealand. We developed a digital archive solution (OpenDiscover) that scales to any business size and we recently transitioned our storage backend to a new platform. We did all of that with a small support team that was goal driven and highly efficient.
Ian Swift
IT & Development Manager
I've been in IT since I was 18 when a friend's father asked if I could help with an asset register for AT&T. Partly because of this, I completely changed what I was going to study at university, settling with Computer Science. Since graduating, I've had a long career in the deep end of code and nurturing technical teams of all shapes and sizes. I love a technical challenge and strive to find simple and elegant solutions. I joined TIMG, and now Freightways, 5 years ago and have been able to form a fantastic closely-knit team. When I'm not working, I enjoy gaming, cooking great meals with my wife, good wines and having fun with my fur-child, Dillon.